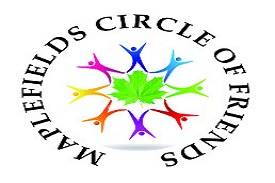 Maplefields Circle of Friends
We are an small independent community group who have a small charity status, our main objective is to enhance the lives of the children who attend Maplefields school.
Maplefields is for children that have a statement of educational needs due to complex social, emotional and behavioural issues. These children are unable to attend local authority run schemes. They also fall into a category of not being able to attend Disabilty groups due to the complexities of their needs. The children that attend Maplefields school have a hidden Disabilty and therefore they are a unique  set of children that cannot attend social groups or play-schemes.  
We are trying to raise funds to sustain activities for these children to attend outside of school hours. We do this through fundraising and events. We are in our infancy and this is a learning curve for us all.
We are trying to forge local ties within our community and we welcome new members to join us on our journey and welcome the wealth of knowledge that they may bring to Maplefields circle of friends.